Hey!
I said yesterday I would be back today with a What I Ate Wednesday post and well……here I am!
Let me start off by thanking Jenn for the link up, where it makes it easy to take a peak into many food filled days. Always lots of fun!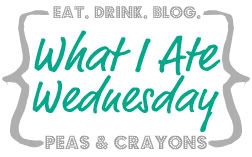 And now, let's get started with what I ate yesterday.
Breakfast
My morning almost always starts off with a cup of coffee(half-caff) these days yet I almost never snap a picture. Mostly because I am tired and cranky and the last thing I want to do is interrupt my love affair with that beautiful cup of Joe! Let's just say, I am not afraid of the creamer. Two tablespoons every morning. Yep, I love the stuff.
About 30 minutes to an hour after coffee comes breakfast. Yesterday it was in the form of two Kashi waffles topped with blueberries and Agave. I am digging this combination right now, especially with blueberries being so sweet and juicy right now!
Snack
After cleaning the bathrooms in my house, taking my dog for a walk, bathing the dog and walking on the treadmill I was in need of a snack and a quick one!
Around 10am I helped myself to a serving of olive hummus and veggie straws. I cannot get enough of this hummus right now and would have no problem spoon feeding it to myself. But I don't. I mean, I try to be a lady…..sometimes!
Lunch
My morning snack held me over for oh….10 minutes so by the time 11:30 rolled around I was getting HAN-GURY(Angry hungry). It didn't help when I talked to Lance on the phone and he told me he was having Mellow Mushroom for lunch. Damn. I wanted pizza, too! Instead, I settled for a turkey/bacon/cheese/spinach sandwich and a side of carrots. It was good but I could have and probably should have had two. I mean, it was on a 100 calorie sandwich thin for crying out loud.
Snack
Fast forward to 2:30 which is the time I got home from picking my kids up at camp. I stopped at Sonic and got them a happy hour slush along with cheese sticks and a grilled cheese sandwich. I got nothin.'
Instead, I had a bowl of cottage cheese and pineapple which was actually just what I needed. The protein did a decent job of satisfying my hunger so it was a win-win and held me over until my next meal.
Dinner
We eat dinner fairly early in my house, usually by 6pm. Last night was even earlier because Camryn had guitar and we had to leave the house no later than 6:15. It's a good thing I had salsa chicken going in the Crock pot all day because it made dinner a breeze to throw together. I threw some veggies in a skillet, sauteed them in olive oil, salt and pepper, added some leftover cilantro lime rice and called it a meal. A pretty darn good one, too!
Sorry, my plate looks pretty gross but this was after I had already started digging in. I had done so good at snapping pics all day, I didn't want to leave this one out. Even if it looks less than appetizing.
Dessert
My daughter hates McDonald's food, won't touch it with a 10 foot pole. Unless, it is their apple pies. For some reason, she loves them. It has become a tradition on Tuesdays to stop after guitar and buy her one as a treat. This evening was no different except this time, I got myself a chocolate dip cone, too. Oh my goodness. talk about delicious! Maybe it's because  am pregnant but I will be getting a repeat on that next Tuesday myself.
While I am happy with my overall day of eating, I think tomorrow I am going to try to add some more protein into my meals, earlier in the day. I find myself getting hungry shortly after eating and I think the lack of protein may be the culprit. The only problem  is that protein isn't my favorite thing right now. But hey, a girl can certainly try. It might be better than having a rumbly tummy……and wanting to reach for junk. Like Doritos. Or pizza. Or Ice Cream. Nah…..ice cream is always a good thing!
What is your favorite meal of the day? Mine is between breakfast and dinner. Unless I am meeting a friend, then I say lunch because you get the gdod food and the social part of it.
What time do you eat dinner? Early like me or later in the evening?